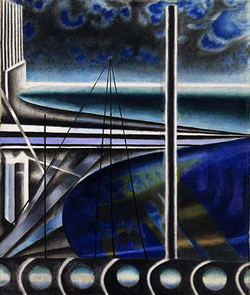 Early 20th Century Fiction: Hemingway, Faulkner, and Others
Modern fiction has many of the qualities of Modern poetry. It begins with the same assumptions about the world: that God is dead and the old traditions are therefore useless; that all truths must be called into question and examined; and that a whole new way of living and thinking about the world must be found. The way language is used must reflect this, in fiction as well as in poetry.
The European tradition had a great influence on Modern fiction, as it did on Modern poetry. Most of the Americans who became the leading fiction writers of the early 20th century had to go to Europe to get their tools. The United States was groping toward an American tradition in literature, but one didn't really yet exist; the country was too new, and too mercantile. In the words of James Gibbons Huneker, the U.S. was a land of bathtubs, not bohemia.
Modernism came more quickly to Europe, and many expatriate American writers were there to help shape it in the years before World War I: Ezra Pound in poetry and Gertrude Stein in fiction, in particular. In the United States, though, naturalism still held sway, with writers like Theodore Dreiser, Jack London, Frank Norris, and Upton Sinclair coming to terms with the fact that the Utopian vision of the 1800s, the American Dream, had deteriorated into brutal materialism. This disillusionment paved the way for the Modernist literature that would come to full bloom in the United States in the 1920s.
Gertrude Stein's influence in this change cannot be underestimated. Stein was born in Allegheny, Pennsylvania, the youngest of five children, on February 3, 1874. Her family moved to Vienna when she was 3, and then on to Paris. When they returned to the United States, they moved to Oakland, California. Stein began reading at the age of 8, starting with Shakespeare and natural history, and became fascinated with sentence structure and the way words were used. Her family moved to San Francisco, and then she went to Boston to live; in 1893, she entered Harvard Annex (now Radcliffe College).
Here she learned, from William James and others, that in the 1890s a new climate was emerging and that the evolutionary, deterministic neo-Darwinian view of nature and the individual was giving way to a freer, more complex vision. Along with Peirce, Royce, and Dewey, James was emphasizing that the relationship between mind and object can never be static but must be understood as part of developing flux. Conclusions can never be fixed once and for all but are constantly under "pragmatic" test; consciousness manifests our transitivity of being and is best seen as a Heraclitan "river or stream"--with this he substantiated one of the most fundamental Modernist epistemological metaphors (Ruland & Bradbury 250).
Stein went from Harvard to Johns Hopkins, where she studied medicine, and then travelled in Europe. She eventually settled with her brother Leo in Paris in 1903, at 27 Rue de Fleurus. She remained there for the next 30 years, becoming one of the most important influences on Modernist art, poetry, and fiction. Her brother Leo was an art collector, and their home became a gathering place for postimpressionist and cubist painters such as Matisse and Picasso, and writers such as Pound, Eliot, Fitzgerald, Hemingway, and many others. There, they all discussed the ideas of the day and influenced each other, creating a fertile ground for the explosion of art and ideas that came from that time. (For more information about Stein and this amazing time and group of people, read The Charmed Circle, by James R. Mellow.).
Stein intended, with her own fiction, to create a new way of using language to reflect the new ideas: "I was there to kill what was not dead, the Nineteenth Century which was so sure of evolution and prayers." Her first novel, Three Lives, experiments with what Stein called "the continuous present," in which the characters' thoughts and associations are recorded as they are happening; there is a great deal of repetition and association, rather than a continuous narrative line. Her next novel, Tender Buttons, is a collage of word association, rejecting traditional narrative, plot, and dialogue.
Stein always thought of herself as American, but couldn't find the aesthetics she needed in America; she needed the artistic movements and experimental climate of Europe. Other American writers recognized this, too, as she said: "Of course they all came to France a great many to paint pictures and naturally they could not do that at home, or write they could not do that at home either, they could be dentists at home." Hemingway was one of those who came, and after reading his work, Stein said to him, "Begin over again--and concentrate." Hemingway did, creating his signature style--the spare, hard sentence--that was to be such an influence on other writers. Sherwood Anderson, too, was influenced, particularly by Tender Buttons, which focused him on the possibilites of rhythmic prose and the importance of language in its own right, rather than just a tool to move forward the plot.
And then, in 1913, there was the Armory Show.
From February 17th to March 15th, 1913, New York's 69th Regiment Armory on Lexington Avenue hosted a display of approximately 1250 paintings, sculptures, and decorative works by over 300 European and American artists such as Delacroix, Degas, Cezanne, Monet, Surat, Duchamps, Pryde, Sickert, Matisse, Myers, Stella, Hassam, Kandinsky, Toulouse-Lautrec, Cassatt, Manet, Whistler, Henri, Bellows, Redon, Munch, and Gaugin. Oscar Bluemner, an architect and artist, said, "The exhibition of the new art from Europe dropped like a bomb." Some loved it, while others abhorred it. Changes in art had been happening for some time, of course, but gathering together in one place such a large representation of the varying responses to Modern thought created a break in artistic and literary tradition. Matisse was particularly reviled for his "misrepresentation" and "distortion" of the human figure, and the Gallery where Duchamps' "Nude Descending a Staircase" was exhibited became known as the "Chamber of Horrors." The show represented a radical change in the ideas and methods that would influence American Art. For more information on the Armory Show, and a gallery of some of the works exhibited, see 1913 Armory Show, a website hosted by the University of Virginia.
The Armory Show marked a turning point in the American arts, incluing literature. But a darker event also influenced the arts worldwide: World War I, which began in 1914 and lasted for 4 long, bloody years. The extent of its savagery and destruction disillusioned a world which was already flirting with meaninglessness. Some of the artists who had shown such promise were killed in the war. Those who survived found themselves in a much darker world: Europe lay in ruins, and in the United States, people were dancing as fast as they could to ward off the darkness gathering around them as well.
Sherwood Anderson
Sherwood Anderson was born in 1876 in Camden, Ohio. He was the third of six children, the son of a harness-maker, who moved his family to Clyde, Ohio, when his business failed. The family lived in poverty, and Sherwood left high school before graduation to help support his family. His mother died when Sherwood was 19, and the family fell apart. Sherwood went to Chicago to work for a while as a laborer, then enlisted in the Ohio National Guard and served in Cuba for a year in the Spanish-American War. Back in the States, he attended Wittenberg Academy in Springfield, Ohio, for a year and completed high school. He would have liked to go on to college, but he couldn't afford it. He moved to Chicago, where he found work as an advertising copywriter. He married Cornelia Lane in 1904; they had 3 children. In 1906, the family moved to Cleveland, and then to Elyria, Ohio, where they lived for five years. He worked hard by day to make himself a financial success, and wrote by night. In 1912, he suffered a nervous collapse and was hospitalized.
Upon his release from the hospital, he realized that he wanted to devote his life to writing. His marriage dissolved and he sold his business interests. He moved to Chicago to start over, and at the age of 37, declared, "I will be a servant to words alone." He had some success: his stories and poems were published in small magazines, and his first novel, Windy McPherson's Son was published in 1916.
In 1917, Anderson married Tennessee Mitchell and moved to New York City. His second novel, Marching Men, was published in 1917, followed in 1918 by a volume of poetry inspired by the work of Walt Whitman and Carl Sandburg, Mid-American Chants. In 1919, his short story collection, Winesburg, Ohio, was published. It won international acclaim for its intense psychlogical studies.
In 1921, Anderson travelled to Europe where he met James Joyce and Gertrude Stein, whose work had deeply influenced him. Always restless, Anderson travelled widely, moving frequently. His second marriage failed in 1923, and a year later, in 1924 he married his third wife, Elizabeth Prall. In 1925, his novel Dark Laughter was published and became a bestseller.
In 1927, Anderson went to live near Marion, Virginia, where he bought two newspapers. But his marriage to Elizabeth was falling apart. They divorced, and in 1933, Anderson married his 4th wife, the radical labor activist Eleanor Copenhaver.
On March 8, 1941, at the start of a tour of South America, he died of peritonitis at Colon, Panama.
Anderson was one of the first writers to implement the ideas of Freud. He believed that much of what we do is motivated by the subconscious and by forgotten past experiences. The characters in his works, especially Winesburg, Ohio, are "grotesques," that is, people who are physically or psychologically warped and trapped in some way. Many of his characters love deeply and yearn for love, yet are kept isolated by their inability to understand, articulate, or overcome their fears or hatreds. They feel depth within themselves, but live in the constricting atmosphere of small town conventions and the economic limitations of the industrial age. Anderson's sentences are deceptively simple; he was deeply influenced by the work of Gertrude Stein in Tender Buttons, and strove to make his prose as clean, spare, and evocative as possible. When Winesburg, Ohio appeared, the reviewer for the Chicago Tribune wrote that Anderson "suggests rather than depicts," and "he respects the imaginative faculty of his reader by refusing to be explicit where overtones of emotion are already invoked by the reader."
Anderson's style and techniques influenced many of the younger writers of the time, among them Ernest Hemingway, Hart Crane, John Steinbeck, Thomas Wolfe, and William Faulkner, who wrote of him as "the father of my generation of American writers and the tradition of American writing which our successors will carry on."
Ernest Hemingway
Ernest Hemingway was born in Oak Park, Illinois, on July, 21, 1899. His father was a doctor who taught him to hunt and fish; his mother was a singer who taught him about music. In high school, he played football and boxed and wrote a weekly column for the high school newspaper. He also contributed poems and essays to the literary journal, Tabula. After graduation, he went to work for the Kansas City Star as a reporter. He tried to enlist in the army during World War I, but was rejected for poor vision, so instead he volunteered as a driver for the Red Cross ambulance service in France. He was then transferred to Italy, where he was seriously injured by a mortar explosion. He reurned to the United States after several months in a hospital in Milan, eager to make a career for himself as a writer. He worked as a journalist in Chicago, where he met Sherwood Anderson. Anderson urged him to go to Paris. Following his advice, Hemingway managed to get himself a job as the foreign correspondent for the Toronto Star, and with his new wife, Hadley Richardson, sailed for France on September 1921.
There he met Gertrude Stein, Ezra Pound, T.S. Eliot, James Joyce, and other giants of the time; Gertrude Stein and Ezra Pound, especially, helped him to hone his style by encouraging him to strip his sentences bare. Of Ezra Pound, he wrote, "He's teaching me to write, and I'm teaching him to box." Along with them, he helped to create a literary revolution. He developed a tight, bare, simple sentence structure, with few adjectives and an impersonal tone, aiming for "the perfect sentence" which would say everything. His first book, Three Stories and Ten Poems, was published in 1923, followed by In Our Time (1925), a collection of stories featuring a character named Nick Adams. His novel, The Sun Also Rises, was published in 1926, and with it, Hemingway became the leading writer of what Gertrude Stein called "The Lost Generation."
In 1926, Hemingway left Hadley and their young son and went to live with Pauline Pfeifer, a fashion reporter. They married in 1927, left Paris, and settled in Key West, Florida. In 1929, while working on his novel, A Farewell to Arms, Hemingway learned that his father had committed suicide by shooting himself in the head. He made himself work through the personal turmoil, and the novel was published later that year.
In 1934, he went on his first safari to Africa; a number of his most powerful stories are set there. In 1937, while researching To Have and Have Not, he became deeply involved in the Spanish Civil War and helped write a propaganda film in support of the republican cause, The Spanish Earth. He was deeply critical of the United States' refusal to become involved, and some accused him of communism because of his anti-facism. But his novel For Whom the Bell Tolls (1940) exposed the atrocities committed by both sides in the war. That novel was a bestseller, and was sold to Paramount Pictures for $100,000, the highest price that had ever been paid for film rights to a book.
That same year, Hemingway was divorced from Pauline and married Martha Gellhorn, a journalist and writer. He worked as a war correspondent during World War II, covering D-Day and the liberation of Paris.
In 1945, he and Gellhorn were divorced and he married an American journalist, Mary Welsh. They divided their time between Hemingway's homes in Cuba and Ketchum, Idaho.
In 1952, he wrote The Old Man and the Sea. It was published first in Life magazine and sold over 5 million copies in 2 days. It was awarded the Pulitzer Prize the following year.
In 1954, Hemingway was awarded the Nobel Prize for Literature. He was unable to attend the awards dinner in Stockholm, however, since he was recovering from innjuries he'd suffered in a plane crash in Africa.
In November 1960, with Cuba no longer safe after the Cuban Revolution, he left his estate there and moved to Ketchum, Idaho. (Accounts of this incident vary, with the Cuban government claiming he left it to them to be made into a museum. The museum is now open daily, although visitors are not allowed inside the house.)
Hemingway's last few months were marred by illness and depression. He worked on a memoir which was published after his death as A Moveable Feast, but working was becoming more and more difficult. He was given electric shock treatments for his depression, and they made it difficult for him to remember things.
On the morning of July 2, 1961, he committed suicide.
Hemingway's ideas are as uncompromising as his style: life is inherently meaningless; all causes are lost, all love ends badly or in death. But there is a possibility of "redemption" in living life with grace, courage and dignity. War is a recurring theme in Hemingway's work, because it is in war that the limits of individual character are most clearly tested. Hemingway's characters live by this "code"; in The Sun Also Rises, Lady Brett says, "It's sort of what we have instead of God." In the same novel, we meet Jake Barnes, whose sterility, caused by his war wounds, is symbolic of the sterility and chaos of the modern world. It would be "pretty to think" that he could find a woman and fall in love, but romantic notions cannot sustain themselves in the modern world. All that is left is to decide what to make of such a world: "I did not care what it was all about. All I wanted to know was how to live in it," Jake says. In all of his fiction, Hemingway gives us a character's "moment of truth." In almost every case, the character is defeated by circumstances (war, nature, death), but maintains to the end his integrity and strength of character. As the fisherman says in The Old Man and the Sea, "But man is not made for defeat...A man can be destroyed but not defeated."
William Faulkner
William Faulkner was born in Albany, Mississippi, on September 25, 1897. He was the first of 4 sons; his father was a railroad administrator. When he was five years old, his family moved to Oxford, Mississippi, where he lived for the rest of his life. His grandfather had been a writer; Faulkner said he wanted to be a writer like his grandfather. Bored with school, he dropped out after eleventh grade and spent his time writing and studying poetry with his friend Phil Stone, a Yale graduate who introduced him to modernist literature.
In 1918, he trained as a pilot for the Royal Canadian Flying Corps; he returned to Oxford after a year and attended the University of Mississippi for two years. In 1920 and 21, he worked in a bookstore in New York City; in 1922, he worked at the University of Mississippi as postmaster, but was fired for losing mail. His collection of poetry, The Marble Faun was published in 1924.
He spent most of 1925 in New Orleans, where he met Sherwood Anderson. Faulkner's account of this meeting was brief and humorous: "Met a man named Sherwood Anderson. Said 'Why not write novels? Maybe won't have to work.'" Anderson introduced him to other writers and encouraged his work; he published a few poems and some criticism in some magazines at this time. Anderson gave him more important advice than this, however: he told him to use his native Mississippi as his setting.
His first novel, Soldier's Pay (1926), was accepted for publication in 1925, and he used the advance to buy passage to Europe. He remained there for 6 months and returned to Oxford in 1926. His second novel, Mosquitoes, was published in 1927.
In his third novel, he followed Anderson's advice: Sartoris (1929) used for the first time the fictional setting Faulkner would use for the rest of his life, Yoknapatawpha County, which is based on the area in which he lived. "Beginning with Sartoris I discovered that my own little postage stamp of native soil was worth writing about and that I would never live long enough to exhaust it. It opened up a gold mine of other peoples, so I created a cosmos of my own." He explored this cosmos in, among others, The Sound and the Fury (1929), As I Lay Dying (1930), Light in August (1932), Absalom, Absalom! (1936), The Unvanquished (1938), The Hamlet (1940), Go Down, Moses (1942), Intruder in the Dust (1948), Requiem for a Nun (1951), A Fable (1954), The Town (1957), The Mansion (1959), The Reivers (1962), and several collections of short stories.
Faulkner's work didn't bring him any real financial stability until the 1950s. He wrote As I Lay Dying while working the night shift at the university power plant, and made most of his money from writing magazine stories. He also worked off and on in Hollywood as a script writer. The money was very good, and he needed it, but he hated Hollywood: the unrelenting sunshine, the hypocrisy of the movie industry, the shallowness and materialism of the people he met, and the habit of the film industry to treat writers a just another commodity. Writers at that time were under contract and were expected to show up for work each day, punching a time clock--in at 8 a.m. and out at 5 p.m., with an hour for lunch--and producing 5 pages per day without fail. Writers were often paired arbitrarily with partners; they worked in small offices with thin walls and were often given typewriters with keys that stuck. This drove Faulkner crazy. At one point, he'd had enough. He was living at the Knickerbocker Hotel at that time, and he asked his boss if he could work at home, as it would allow him to concentrate better. His boss gave grudging permission. A few days later, his boss was trying to call him to find out where his pages were, but wasn't getting any answer at the Knickerbocker. Another writer said, "Oh, Bill went back to Mississippi." When his boss contacted him there, furious, Faulkner said innocently, "But you said I could work at home!"
Faulkner and his wife had a daughter who died at birth, and then another daughter. The hard work and constant worry about money wore Faulkner out and strained his marriage. He became a heavy drinker and checked into the sanitarium in Oxford to dry out more than once.
In 1950, Faulkner won the Nobel Prize for Literature and gave a moving and powerful acceptance speech, in which he affirmed his belief in "courage and honor and hope and pride and compassion and pity and sacrifice." He donated part of his winnings to create a fund to help young writers; this became the Pen/Faulkner Award. He also began a fund to provide college scholarships for African-American students.
In July 1962, Faulkner was injured in a fall from a horse. While being treated for his injuries and for alcoholism, he suffered a heart attack and died on July 6, 1962.
We are reading only one of Faulkner's stories; don't let this one example mislead you. Think of the total body of his work as a quilt. Reading one story is like looking at one small patch in a much larger quilt. Each of his novels and stories contributed one more square to the total picture, and each new work sheds light on the older works. The story we are reading, "Centaur in Brass," is part of a much larger group of stories and novels written about the Snopes family. Faulkner may have begun writing about Yoknapatawpha County by accident, but even before he finished his first book, he began to have an idea of a much larger design. Each novel and story provides another view of the county: we see it across more than a century, through several generations, and from the perspective of everyone from the founder of the town of Jefferson to Benjy, a mentally retarded boy. Faulkner paints a picture of a place caught between the past and future, the agrarian and the industrial, where morality and humanity often collide with greed and racism, where the social and the personal often conflict or merge. In The Sound and the Fury, he began experimenting with free association of images, the distortion of events through memory and perspective, interior monologue, and stream of consciousness. Whereas Hemingway's sentences specialized in brevity, Faulkner's often go on forever. The first page and a half of Absalom, Absalom! is composed of two sentences which flow on and on, creating, as a poem would, the feeling of how slowly time moves in this place and how interconnected all things are with each other.
Like the other Modernist writers, Faulkner explores a world in which chaos, fragmentation, and isolation predominate.
It is a world where in 1835 the "stars fell" with the appearance of a comet, where in 1865 a whole nation and tradition went down to defeat, and where land as spirit has yielded to land as pure property, woods to axes, gardens to machines, South to North, timeless wonder to "progress." But in this fallen Eden of the South, there are still moments of promise as life is renewed in the cycle of eternal time, as human endurance reveals itself, as romantic wonder yields up a lyric and transcendental vision and a sense of symbolic significance...Faulkner had always been interested not simply in the onerous pains of Southern history and its relation to the crises of the modern psyche, but in the plenitude of human nature, the lyrical and transcendental aspects of the natural world and the feeling that creativity and hope can be relived and passed from generation to generation, so becoming timeless" (Ruland & Bardbury 312-13).
Dorothy Parker
Dorothy Parker was born Dorothy Rothschild on August 22, 1893, in West End, New Jersey. Her father was a wealthy clothier; her mother, Eliza, died when Dorothy was 5 years old. Her stepmother, whom she loathed, sent her to the Blessed Sacrament Academy, then to Miss Dana's School in Morristown, New Jersey. She left school at age 13. Her father died when she was 20, and she played the piano at a dancing school for a time to support herself.
She began writing light verse, which was published in The Saturday Evening Post and other magazines. In 1915, she was hired to write captions for fashion illustrations for Vogue; one of her most memorable was "Brevity is the Soul of Lingerie." The editor promoted her to a position as drama critic for Vanity Fair. (In one of her reviews, she said of Katherine Hepburn, "She runs the gamut of emotions from A to B.") There, she met Robert Benchley, who became one of her closest friends. At one point, she and Benchley took an office together; their cable address was "ParkBench."
At about this time, she met Edwin Pond Parker, a stockbroker. They married in June 1917.
In 1925, she went to work for the new magazine being launched by Herbert Ross, The New Yorker. A number of her poems were published there and she also published book reviews under the name "Constant Reader." (In a review of Benito Mussolini's "The Cardinal's Mistress," she wrote, "This is not a novel to be tossed aside lightly. It should be thrown with great force.") Her short stories, though, made the greatest impression on readers.
Dorothy Parker was one of the few women to be a member of the group of writers known as the Algonquin Round Table, among them Franklin Pierce Adams, Robert Benchley, Heywood Broun, Marc Connelly, George S. Kaufman, Harold Ross, Robert Sherwood, and Alexander Woollcott. They met daily for lunch at a round table in the Algonquin Hotel. They worked together on several projects, but mostly tried to outdo each other with their wit. One of their favorite games was to take turns choosing a word at random from the dictionary and making, with no hesitation, a funny sentence with it. Dorothy Parker always won at this game. The story goes that the men got tired of being always outdone by her, so they conspired to find a word she could never use in a funny sentence. They pored over the dictionary and finally chose "horticulture." The next day they sprang it on her, and without hesitation she said, "You can lead a horticulture but you can't make her think."
Dorothy Parker may have been the funniest woman in America--she once said of an acquaintance, "You know, she speaks eighteen languages, and she can't say 'No' in any of them."--but her own life wasn't that happy. She and her husband were divorced in 1928, after being separated for a number of years. She had many unhappy love affairs and attempted suicide several times.
Things seemed to get better after she met and married Alan Campbell, who was eleven years younger than she. Her wit had earned her an invitation to write for the Hollywood studios, and she and Alan became a writing team, sometimes making more than $5000 a week. Neither of them liked Hollywood very much; Dorothy, especially, yearned for New York. But many of their friends had followed them to Los Angeles. For a time, many of them lived in a hotel called the Garden of Allah, which used to stand at the corner of Sunset and Crescent Heights in Hollywood, and served as a home to many writers and actors. One night, Dorothy Parker was having a large and noisy party in her apartment. Upstairs from her lived George Oppenheimer, another writer, who was an incorrigible name-dropper. Everyone was laughing and dancing, when suddenly, from above there was a loud crash. Everyone fell silent for a moment. "Don't worry," said Dorothy. "It's just George, dropping a name."
Alan and Dorothy did well for a while, but their relationship began to deteriorate. He was bisexual, and his affairs with other men caused her a great deal of unhappiness. She retaliated with cutting sarcasm and affairs of her own. Their drinking increased, until alcoholism was a problem for both of them. They divorced in 1947, remarried in 1950, then separated again in 1951. They reconciled in 1961 and remained together until his death in 1963.
Alan's death devastated Dorothy. She moved back to New York, where she lived in poverty in a residential hotel, drinking much and writing little. She died there of a heart attack on June 7, 1967.
Parker never thought much of her own writing, dismissing her own work as "wisecracks." Of the Round Table writers, she said, "These were no giants. Think who was writing in those days--Lardner, Fitzgerald, Faulkner and Hemingway. Those were the real giants. The Round Table was just a lot of people telling jokes and telling each other how good they were. Just a bunch of loudmouths showing off, saving their gags for days, waiting for a chance to spring them...There was no truth in anything they said. It was the terrible day of the wisecrack, so there didn't have to be any truth..." And it's true that some of her work is nothing more than humorous. But her best short stories, among them "Big Blonde," "The Little Hours," and "Soldiers of the Republic," are incisive and insightful. Their humor disguises their similarities to other Modernist stories: the disintegration of tradition, the isolation and chaos of modern life, the feeling of groping in the dark for a new way to live in a world that doesn't make sense.
---
Some of the information in this lecture derives from:
1. Eds. George and Barbara Perkins. The American Tradition in Literature. 11th ed., Vol. 2. New York: McGraw-Hill, 2007.
2. Eds. Susan Belasco and Linck Johnson. The Bedford Anthology of American Literature, Vol. 2. Boston: Bedford/St. Martin's, 2008.
3. Eds. George McMichael, et al. Anthology of American Literature, 9th ed., Vol. 2. New Jersey: Pearson, 2007.
4. Richard Ruland and Malcolm Bradbury. From Puritanism to Postmodernism: A History of American Literature. New York: Penguin, 1991.
5. The Poetry and Short Stories of Dorothy Parker. Modern Library edition. New York: Random House, 1994.
6. Eds. Sandra Gilbert and Susan Gubar. The Norton Anthology of Literature by Women. 2nd ed. New York: Norton, 1996.