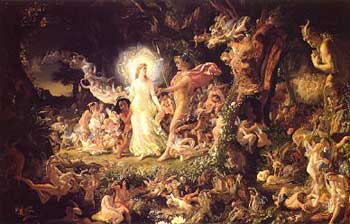 A Midsummer Night's Dream
Directions: After reading the lecture, answer one of the main questions, which will appear in bold. This question is due no later than Thursday, Feb. 8. Following that will be other questions, in black, which you should read and think about--they may help you answer the main question. However, you are not required to answer these questions in writing.
Your responses to other students' answers are due by midnight on Sunday, Feb. 11. In order to get the full 20 points, you MUST respond thoughtfully to at least 2 other people's postings.
This set of discussion questions is worth a possible 20 points. Remember: late answers receive 0 points, so post early :)
We will be using the Canvas Discussion Board for this class. Click on the link below to get to the Canvas portal, sign in, and then click on the box for this class. You will find the "Discussions" link on the left side of the screen:
---
A Midsummer Night's Dream Link
Your first Discussion Question is going to be pretty easy. It's a two-parter:
Introduce yourself: tell us why you're taking the class and what experience you've had with Shakespeare in the past. Have you read or seen any of his plays before?
What are your reactions to A Midsummer Night's Dream, so far?
1. As the play opens, how long is it until the wedding of Theseus and Hippolyta?
2. What is Egeus's complaint about his daughter, Hermia?
3. Why doesn't Hermia want to marry Demetrius?
4. According to Theseus, what are Hermia's choices?
5. There is an anachronism in this scene; what is it?
6. What plans do Lysander and Hermia make after Theseus and Egeus leave the room?
7. Why is Helena unhappy?
8. Why does Helena decide to tell Demetrius about Hermia and Lysander's plans?
8. Bottom is a ham, who wants to play all the parts in the play. How does Quince flatter him into playing the part of Pyramus?
10. Why are Oberon and Titania angry at each other?
11. What kinds of tricks does Robin Goodfellow (Puck) play on people?
12. What calamities have fallen upon the world as a result of Titania and Oberon's fighting?
13. Why does Titania refuse to give the boy to Oberon?
14. What magic power does the "love-in-idleness" flower have? What does Oberon plan to do with it?
15. What does Oberon order Robin (Puck) to do? What mistake does he make?
16. When Lysander awakes, who does he see? What is his reaction?
17. What is Helena's reaction to Lysander's declaration of love?
18. By the end of Act II, how does Lysander feel about Hermia?
---
Click on the picture at the top of the page to find out more about it.