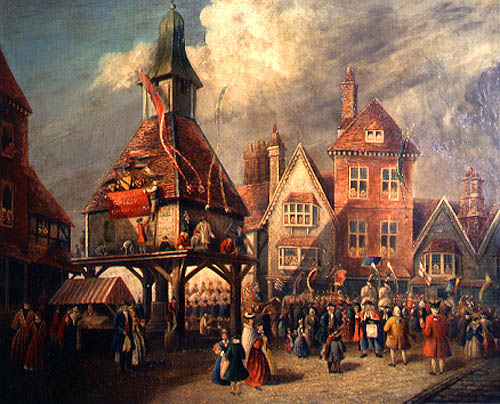 Reading Shakespeare
Reading Shakespeare's plays can be difficult for contemporary audiences. The language has changed a lot in the last 400 years; sometimes reading a Shakespeare play feels like reading a foreign language. But there are a few things you can do to make it easier.
First, read a lot of Shakespeare. I know, I know, that sounds nuts. But it works. After you have read a few of his plays, you start to get used to the language and it starts getting a lot easier. That won't help you if A Midsummer Night's Dream is your first Shakespeare play, but it might help you to know that this will get better as the class goes along.
More practically, there are a couple of things you can do right away, to make A Midsummer Night's Dream (and the other plays) easier to understand.
Watch a movie version of the play. (This is in addition to reading the play of course!) It's best if you can see the play performed on the stage, as it was meant to be seen, but that may not be possible. A movie is the next best thing. These plays were meant to be watched, not read, so seeing the movie is not cheating. It simply makes it easier for you to see what's going on, and in many cases, seeing the play enacted makes it easier to understand. In the case of A Midsummer Night's Dream, it can be difficult to keep track of who is in love with whom at any given point; seeing the movie allows you to attach faces to the names, and makes it easier.
There have been several movie versions of A Midsummer Night's Dream. Probably the easiest one for you to find is the one made in 1999 by director Michael Hoffman, starring Kevin Kline and Michelle Pfeiffer. It's been changed a bit, and some of the performances are not all they could be, but it's pretty easy to follow, and Kevin Kline is very funny.
There is also a ballet version, made in 1966 and directed by George Ballanchine. I'm not sure it will help you understand the play any better, but it's beautiful to watch.
And an excellent version, but hard to find, is the 1968 movie directed by Peter Hall and starring, among others, Diana Rigg, Helen Mirren, and Ian Richardson.
Read the play aloud. Many times it's the spelling that throws you off, but when you say the words aloud, they make more sense.
Read a summary of the play. Many of them are available online. Helping to know what is happening makes it easier to deciper the language. (The New Folger Library editions I've recommended contain a summary of each scene.) Reading summaries or notes isn't cheating--as long as you read the play, too!
In the case of A Midsummer Night's Dream it sometimes helps to make notes and charts, detailing who is in love with whom, and why, at any given moment.
Ask questions. There is a class Message Board where you are supposed to post your answers to Discussion Questions. But you can use the Board to ask questions, too. Feel free to ask about anything you can't figure out. I check the boards daily, and if someone else doesn't answer your question, I will.
Remember that, in Shakespeare, it's not the plot that's important, but the execution. Shakespeare's plots are not new, and in some cases, they're pure soap opera. Sometimes it's so hard to read the plays that all of your attention is focused simply on figuring out what's happening. But save part of your brain for noticing the language and the complexities of the characters. Shakespeare isn't still read after all these years because he came up with original plots--he didn't. He's remembered because of the way he wrote the plays. You're going to find beautiful language in these plays, and subtle and complex characters, and perfectly timed comedy and suspense.
In the New Folger Library edition of A Midsummer Night's Dream, there is a section in the Introduction called "Reading Shakespeare's Plays" containing information which will help you to read the plays more easily. Take a look at this--it's very helpful.
If you have any tips of your own for making the reading easier, please feel free to post them on the Message Board.
William Shakespeare
William Shakespeare was born in 1564 in Stratford-upon-Avon, in Warwickshire.
Shakespeare's father, John, was an alderman (the equivalent of a member of the city council) and an influential member of the community; he was a glover and wool-dealer by trade. As he became more prosperous, he also dealt in other agricultural commodities, and in addition began to buy and rent houses. He may have been a secret Catholic (it was illegal to be Catholic in England at the time), and may have passed some of his beliefs on to his children and grandchildren. There is no evidence, though, that William Shakespeare was Catholic; he appears to have been raised in the Anglican Church traditions and to have followed them during his lifetime.
William was the second of eight children, three of whom died in infancy or childhood. The youngest son, Edmund, many years later, followed his older brother into the theater and became an actor.
Shakespeare went to the local grammar school, where education was conducted almost entirely in Latin; the teachers were M.A.s from Oxford. We have no specific records of Shakespeare's school career, but if he were typical, he would have begun his education in the "petty school," at age 4 or 5, where he would have learned his letters, his catechism, handwriting, and some arithmetic (including accounting). He would have entered grammar school at the age of six or seven. He would have studied Latin grammar and classics, logic, rhetoric, mathematics, and history. His school day would have begun at 6 a.m. with morning prayers. After a short recess for breakfast, lessons began and went on until lunch, at 11 a.m. Classes would begin again at 1 p.m. and continue, without any more breaks, until 5 or 6 p.m. Students went to school 6 days a week, most weeks during the year.
Shakespeare might have gone on to university, except that his father's fortunes began to fail when William was about thirteen. Shakespeare probably finished school, like most boys, when he was 15.
Shakespeare's father was deep in debt by the time William reached adulthood (he even stopped going to church, where his creditors might find him); although Shakespeare likely helped in the family business, it wouldn't have made him much money. He may also have worked for a time as a schoolmaster.
On Dec. 1, 1582, he married Anne Hathaway. Their marriage required a special license: he was 18 and a minor; she was 26, and three months pregnant. Their first daughter, Susana, was born in May 1583. Twenty months later, in January 1585, Anne gave birth to twins, Hamnet and Judith. About two years later, probably in 1587, Shakespeare left Stratford and went to London where he became an actor.
There has been a great deal of speculation about why Shakespeare left Statford. One popular story is that he was caught poaching deer from a local nobleman's park and was forced to flee the area. There is no documentary evidence to support this story, but many believe it. Another suppostion, again unsupported by documentary evidence, is that Shakeseare had already been acting for two or three years in local companies before going to London.
Shakespeare would have been exposed to theater early and frequently; touring groups of professional players came to Stratford to perform at least two or three--and some years, as many as five--times a year. When the troupe known as the Queen's Men came to Stratford in 1587, they were lacking an actor, who had been killed by a fellow actor on the road. Another troupe, Leicester's Men, also visited Stratford that year, and they were short a couple of actors. One of the groups may have recruited Shakespeare at this time, although, again, there is no documentation to support such speculation. Whether he joined either troupe, it is almost certain that he was hired, not as an actor, but as a behind-the-scenes worker of some sort (one biographer theorizes that he was hired as a prompter), and later made his way into acting. There is a very popular story that Shakespeare began, not as an actor, but as a sort of "valet parker" for people's horses. They would greet him, give him the reins of their horses to tie up while they were inside, and tip him when they returned after the show. According to legend (once again, unsupported by any documentation), Shakespeare became so popular with his customers that he had to hire boys to work for him, and became an actor after his sparkling personality was noticed by the owners of the theatre company.
However he began, Shakespeare was apparently a good and popular actor. But as time went on, writing plays became more important to him than acting, although he acted throughout his career. He worked for several theater companies and possibly in 1591 or 1592, came under the patronage of Lord Southampton. (That is, Lord Southampton may have paid Shakespeare's bills and given him a stipend to write. It was common practice for the wealthy to act as patrons to artists, musicians, writers, and poets.)
In 1591, Shakespeare's Henry VI Part I won him popular acclaim. By now, he had also probably written The Taming of the Shrew, Richard III, and possibly Titus Andronicus and the Henry IV cycle, although these were not performed until several years later. But Shakespeare's career was interrupted as terrible outbreaks of plague in 1592 and 1593 killed more than 10,000 people, among them many theater people. Theatres and other public entertainments were closed by order of the Privy Council from January 1593 until the winter of that year. The plague abated a bit, but gained strangth again in the new year, and the theatres were closed again in February of 1594. They remained closed through the summer.
We don't know what Shakespeare was doing during this period. Many biographers speculate that he was travelling on the Continent, but they draw their conclusions from references in the plays to various foreign locales. There is no documentary evidence that Shakespeare travelled at this time, and the references could have been culled from popular travel books or tales told by friends and acquaintances.
What we do know is that in 1593, Venus and Adonis, a collection of sonnets, was published and he achieved success as a poet, as well. The poem went through sixteen editions before 1640.
Venus and Adonis was published by Richard Field. Shakespeare had gone to school with him. As an adult, Field also moved to London, where he became a printer. Field also printed Shakespeare's The Rape of Lucrece in 1594. One biographer argues that Jacqueline Field, Richard Field's wife, is the "Dark Lady" of the sonnets.
In the autumn of 1594, the theatres finally reopened, and for the first time, there is a record of Shakespeare as a permanent member of one theatre company: he had become a leading member of the troupe known as the Lord Chamberlain's Men. They were headed by James Burbage, who had been an actor and was now a theater owner and producer; he and several partners, Shakespeare among them, later built the Globe Theatre. For now, their home theater was The Theatre, and their "overflow" theater, close by, was The Curtain. (There's a map of London with all the theaters marked on it, and more information about the Globe and theater in Shakespeare's London, in Lecture 2). Richard Burbage, James's son, was the leading actor in the Lord Chamberlain's company. Records of payments show that Shakespeare was one of the leading actors in the company, and was also a shareholder. Most likely, he helped stage plays for the company, including his own; and he wrote plays exclusively for them.
The company that might have been their most threatening competitor was the Lord Admiral's Men, with Philip Henslowe as its producer, Edward Alleyn the greatest of tragic actors, as its star,and Christopher Marlowe as its writer. But Marlowe was killed in 1593, and Alleyn withdrew from the stage in that same year. The Lord Chamberlain's Men thus became the leading theater company in London.
The Lord Chamberlain's Men was a close company of around twenty to thirty men (with three or four boys to play the women's parts). They acted together day after day, in the theatre during the season, at Court during the Christmas holidays; they rehearsed nearly every day. When not acting in London, they toured the countryside together. One of the members of the company was Edmund Shakespeare, William's younger brother.
The company didn't just perform a play for a season and then start a new play for the next season; once they learned a play, it became part of a repertoire of plays that they could draw on at any time, or upon request. For example, during a summer, they might perform, on different nights, three or four different plays; in the winter, they might do the same as they toured the countryside. And at Court, they would perform whatever was requested of them by the Queen; sometimes, they performed for several nights in a row, doing a different play each night.
Cast lists were kept, but they listed only what members performed in the play, not which parts they played. We don't know, therefore, exactly which parts Shakespeare played, although it is fairly certain that he performed (among other roles, of course) the Ghost in Hamlet. He also acted in plays written by other dramatists for the Chamberlain's men, among them Ben Jonson's Every Man in his Humour in 1598.
By this time, Shakespeare was well-established in his profession. He lived in London, and his family lived in Stratford. If there was ever talk of them moving to London, there is no record of it. Shakespeare visited Stratford at least once a year, and more often in some years.
He was almost certainly present for the funeral of his only son, when, in 1596, Hamnet died at the age of eleven, and was buried on August 11.
That same year, Shakespeare commissioned a coat-of-arms for his family, and the following year, purchased the seond largest house in Stratford: New Place. A few years later, in 1602, he bought 107 acres of land in Stratford, and continued to acquire property and pursue other business interests in the area until his death.
In 1597, the Lord Chamberlain's Men were still using The Theatre as their main house. But in April, their lease on The Theatre expired. James Burbage had begun negotiations early, but was unable to come to agreeable terms with the landlord, Giles Allen. Burbage began looking around for alternate sites and purchased the refectory of the old Blackfriars Monastery in the city. He refurbished it, but the residents of the fashionable area, alarmed at the thought of a theatre in their midst, complained to the Privy Council and delayed the use of the building. To make matters worse, James Burbage died in late January 1597. When April came, the lease expired without a new agreement. The company stayed on for a while, but by the end of the year, they had moved to The Curtain, their "overflow" theatre. This could not be a permanent solution: The Curtain was much too small and was, in any case, due for demolition. James's son, Cuthbert Burbage, took over the negotiations, but Allen had no intention of issuing a new lease; he was planning to tear down the theatre in order to sell the wood.
The Burbages found out about his plans and made their own. On December 28, 1598, when Allen was away in the country, the Burbages, including James's widow, and a number of their friends and workmen gathered at The Theatre after dark and dismantled it. This action was specifically permitted to them by a provision in the expired lease. They ferried the timber from the dismantled theatre across the river to Bankside where they used it to build the Globe.
Allen sued, but got nowhere.
Shakespeare was one of a syndicate which owned the Globe. The agreement signed in February 1599 shows that Nicholas Brend, the Burbage brothers (Cuthbert and Richard), and five members of the troupe--William Shakespeare, John Heminges, Augustine Phillips, Thomas Pope, and William Kempe--shared the expenses of the lease on the land, the construction and the operation, and also shared in the profits; Shakespeare's share was 10 percent. Sheakespeare likely made approximately £200 pounds per year from his investment; this may not sound like much today, but it was about ten times what a well-paid schoolmaster made. This amount would fluctuate, of course, depending on the sizes of the audiences and the year's expenses.
Shakespeare is the only Elizabethan dramatist known to have written, produced, and acted as well as owning a share of the theatre. For seventeen years he was part owner of the Globe Theatre, and for eight years he was part owner also of the company's second theatre, the Blackfriars.
The Globe Theatre opened in 1599, probably with a performance of Julius Caesar. It was full to its capacity of 2000 people, and the play was a great success.
Queen Elizabeth died on March 24, 1603, and King James I acceded to the throne. He immediately took the Lord Chamberlain's Men under his patronage, and they became the King's Men. They doubled the number of performances at Court, and King James doubled their pay for each play, too. James also gave them a license to play in any town or university, so that they no longer had to persuade mayors and civic authorities to allow performances. In the ten years before they became the King's Men, their performances at Court averaged three per year; afterward, they averaged thirteen known performances per year, and spent a good portion of their time preparing for command performances. The Court was becoming a larger source of profit than the Globe.
On June 5, 1607, Shakespeare's oldest daughter, Susanna, was married; in September 1608, his mother died. (His father had died in 1601.) He was almost certainly present at his daughter's wedding, since he now spent his summers in Stratford. And he probably took time out from his business dealings in London to go to his mother's funeral. At the time, the King's men were occupied in taking over the leading private theater, Blackfriars Theatre. They had bought the property several years before, but had leased it; now they took possession again. This was a huge benefit for the Company, since the Blackfriars was an enclosed theatre, not open to the weather, and would allow them permanent winter quarters. By now, Ben Jonson, one of the most prominent playwrights of the next generation, was a fixture of the King's Men, and two other dramatists, Francis Beaumont and John Fletcher, were also recruited; Fletcher became Shakespeare's collaborator and eventually his successor. There was another visitation of the plague in 1608, and most of the theaters were closed in the later part of the year. The Blackfriars didn't open under its new management until 1609. It became their winter theater; the Globe remained their summer theater.
The plague interrupted the printing trade, too, but one of the books published that year was Shakespeare's Sonnets: Never Before Imprinted. Since copyright laws were not yet in place, we don't know how much Shakespeare had to do with this printing of his sonnets. There are numerous errors in the text, so Shakespeare probably did not authorize the edition. He didn't write the dedication, either; the publisher did that. And none of the sonnets is dated; only a few had ever been in print before. Some theorize (Rowse, especially) that the sonnets were probably written much earlier in Shakespeare's life, perhaps in the early 1590s. Others (especially Schoenbaum) feel they were written at intervals over the course of years.
Many of the sonnets were written to or refer to a specific woman with whom Shakespeare had a love affair. By scholars, she is referred to as "The Dark Lady," but we don't know for sure who she was. There has been a great deal of speculation, of course, about her identity. Rowse argues that she may have been a woman named Emilia Basso, a dark-haired beauty from a family of court musicians, married to Will Lanier, who was also a court musician. But there are many possibilities, and no one can be certain.
By 1612, Shakespeare's production of plays was slowing down and he was spending more time in Stratford. But he wasn't ready to retire yet: he produced Henry VIII in 1613; in fact, on July 29, 1613, the Globe Theatre was burned down during a production of the play. Cannon were shot off at King Henry's entry, and a spark set the thatched roof on fire. But the theater was rebuilt (this time with no thatch to the roof).
Shakespeare retired to Stratford and appears to have spent most of his time there in his last years. His daughter Susanna had married Dr. John Hall in 1607, and his daughter Judith married in February 1616. In preparation for this change, Shakespeare summoned his lawyer and made the appropriate alterations to his will. At the time, he appears to have been in good health. But his health, for unknown reasons, had declined by the time he signed the final draft of the will, in March 1616; his signature is shaky and feeble.
His will has occasioned as much debate as any of his plays. His first provision is for his daughter Judith, and shows he had little faith in the integtrity of his son-in-law: he leaves her money, but carefully ties it up so her husband can't get it. (His feelings were justified: Thomas Quiney, his daughter's husband, had already gotten another woman pregnant, and was brought to court for it just months later.) He leaves various sums of money and goods to other relatives and friends; he left the remainder of his estate to his daughter Susanna and her husband, including his leases, properties and shares in the Globe and Blackfriars Theatres. He mentions his wife, Anne, only to specify that she be given the "second-best bed."
This bequest to his wife (and the fact that he failed to leave her anything else) has led to endless speculation. Was it intended as an acknowledgment that they were not close, and that he had no regard for her? Or did he assume that his daughter, Susanna, would care for her, and feel no need to provide for her otherwise? English common law traditionally guarantees the wife a one-third interest in her husband's estate, whether that is put into a will or not. But that is only tradition, and we do not know if that tradition was followed in Stratford. If it was, Shakespeare knew his wife would receive a share of his estate no matter what. It seems odd to many historians, though, that he took such care to be specific about his other bequests, and left his wife's unmentioned.
And the "second-best bed": what does that mean? Again, there is no agreement. Some feel it is a deliberate slap in the face; others point out that the "best bed" in a home at the time was the one in the guest bedroom. That bed would hold no particular sentimental value for Anne, and thus Shakespeare willed her their marriage bed as a token of affection.
Shakespeare died two months after his younger daughter's wedding, on April 23, 1616. He was 53. The cause of death is not known. He was buried in the chancel of Holy Trinity Church in Stratford-Upon-Avon.
His old friends, Henry Condell and John Heminges, collected his plays and published them in 1623 under the title Mr. William Shakespeare's Comedies, Histories, and Tragedies; this is the book known as the First Folio, which is the source for most of the plays we read today.
Chronology of Shakespeare's Works
The dating of Shakespeare's poetry and plays has always been a source of controversy, due to the loss of records and the fact that many times, accurate records were not kept. In some cases, the date of composition is known. In other cases, it has to be deduced from other records, dates of performances, or evidence from within the plays. The following Chronology is taken from The Riverside Shakespeare, G. Blakemore Evans, editor.
| | |
| --- | --- |
| I Henry VI | 1589-90 (revised 1594-95) |
| II Henry VI | 1590-91 |
| III Henry VI | 1590-91 |
| Richard III | 1592-93 |
| Venus and Adonis | 1592-93 |
| The Comedy of Errors | 1592-94 |
| Sonnets | 1593-99 |
| The Rape of Lucrece | 1593-94 |
| Titus Andronicus | 1593-94 |
| The Taming of the Shrew | 1593-94 |
| The Two Gentlemen of Verona | 1594 |
| Love's Labour's Lost | 1594-95 (revised 1597 for court performance) |
| Additions to Sir Thomas More | 1594-95 |
| King John | 1594-96 |
| Richard II | 1595 |
| Romeo and Juliet | 1595-96 |
| A Midsummer Night's Dream | 1595-96 |
| The Merchant of Venice | 1596-97 |
| I Henry IV | 1596-97 |
| The Merry Wives of Windsor | 1597 (revised ca. 1600-01) |
| II Henry IV | 1598 |
| Much Ado About Nothing | 1598-99 |
| Henry V | 1599 |
| Julius Caesar | 1599 |
| As You Like It | 1599 |
| Hamlet | 1600-01 |
| The Phoenix and Turtle | ca. 1601 |
| Twelfth Night | 1601-02 |
| Troilus and Cressida | 1601-02 |
| All's Well That Ends Well | 1602-03 |
| Measure for Measure | 1604 |
| Othello | 1604 |
| King Lear | 1605 |
| Macbeth | 1606 |
| Antony and Cleopatra | 1606-07 |
| Coriolanus | 1607-08 |
| Timon of Athens | 1607-08 |
| Pericles | 1607-08 |
| Cymbeline | 1609-10 |
| The Winter's Tale | 1610-11 |
| The Tempest | 1611 |
| Henry VIII (may have collaborated on this play with Fletcher) | 1612-13 |
| Cardenio (a lost play; may have collaborated with Fletcher) | 1612-13 |
| The Two Noble Kinsmen (may have collaborated on this play with Fletcher) | 1613 |
If you'd like more information on any of the topics in this lecture, click the button:
Enjoy!
---
Some of the information in this lecture derives from:
1. Shakespeare the Man, by A. L. Rowse
2. Shakespeare's Life and Art, by Peter Alexander.
3. A Literary History of England, ed. Albert C. Baugh
4. William Shakespeare: A Compact Documentary Life, by S. Schoenbaum
---
Click on the picture at the top of the page to find out more about it.